To learn more about our product line, you can now request a sample online.
OUR EXCLUSIVE PRODUCT LINE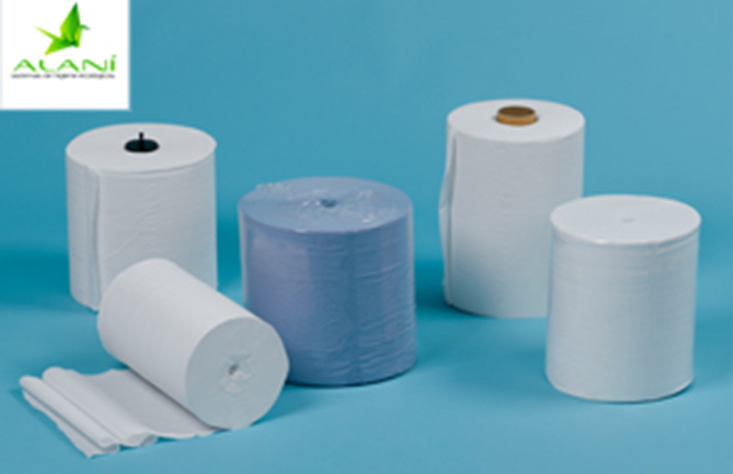 Cost-effective, high-quality, high capacity coreless paper towel rolls.
Specifically designed for our touch-free autocut dispensers, to provide reliable towel dispensing at the wave of a hand.
Each high-capacity roll provides up to 800 hand dries of continuous service.
These premium towels offer dependable, cost-saving performance, minimum waste and customer satisfaction guaranteed.
One-sheet-at-a-time, touch free dispensing : reduces usage and minimizes the risk of cross contamination.
Alternative of Individual packaging that can be used as a portable dispenser, plus
protecting the product form bacteria, dirt and humidity.
Ideal for Service Industries and Catering.
CODE

DESCRIPTION

TECHNICAL SPECIFICATIONS

HBAC0140DPV4
Bobina Auto Corte Laminada 140 M
100% PURO   6 Un./Pack
HBAC0140DPB4
Laminated Auto Cut Paper 140 M
AZUL   6 Un./Pack
HBCA0100TPV4
Premium Auto Cut Paper 100 M Laminated
100% PURO 6 Un./Pack
HBAC0250SGVC
Auto Cut Paper Rolls 250 M Embossed
100% PURO 6 Un./Pack

ALANI HIGIENE PROFESIONAL S.L.