To learn more about our product line, you can now request a sample online.
OUR EXCLUSIVE PRODUCT LINE
CORELESS CENTRE PULL SYSTEM: IT REDUCES WASTE, TRANSPORT COSTS, ADMINISTRATION AND LABOUR
Mini Coreless Centre Pull, smooth or embossed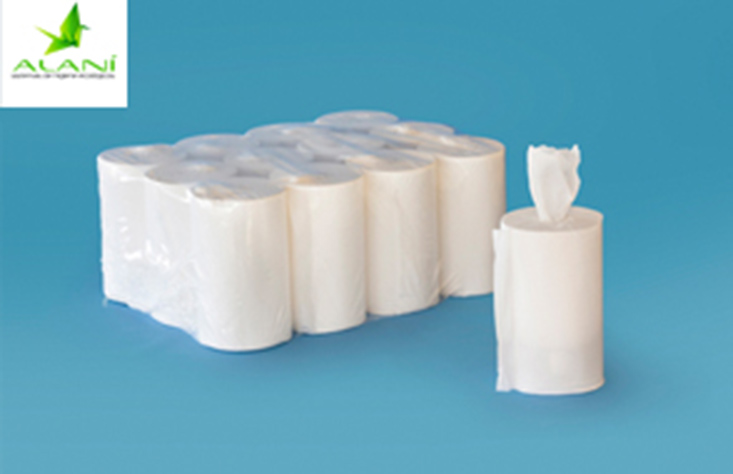 Same principles as the coreless Centre Feed Towel, but in a smaller diameter, to minimize storage costs and facilitate its transport. Ideal for smaller places with less traffic.
Water absorbent and resistant 1 and 2 ply Paper Towels.
Coreless: Reduced waste and space!
Individual pack: Can be used as a portable dispenser on trolleys and workstations, protecting the roll from dust, dirt and moisture.
If the pack is not removed, it can work as a protector inside the dispenser as well: Keeping the paper dry from water, and chemical spills during foam cleaning. While giving a better corporate image.
User Friendly: Quick access to the paper, reduces time replacing rolls and reduces the waste generated by cores.
CODE

DESCRIPTION

TECHNICAL SPECIFICATIONS

HBCP0065DLVC
Bobina Mini Mecha 65 M
100% PURE  12 Un./Pack
  
HBCP0065DLBC
Bobina Mini Mecha 65 M
BLUE   12 Un./Pack
  
HBCP0120SLVC
Bobina Mini Mecha 120 M
100% PURE   12 Un./Pack
  
HBCP0120SLBC
Bobina Mini Mecha 120 M
BLUE  12 Un./Pack
  

ALANI HIGIENE PROFESIONAL S.L.