To learn more about our product line, you can now request a sample online.
OUR EXCLUSIVE PRODUCT LINE
AUTO CUT BLUE SEA DISPENSER
Auto Cut BLUE SEA Dispenser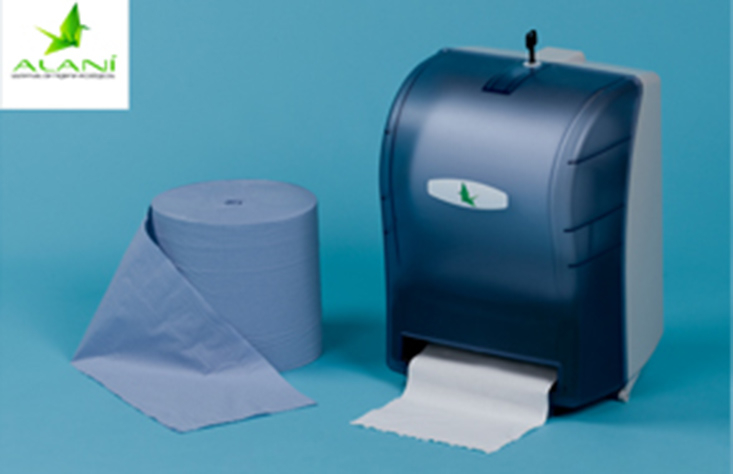 Less than 5lbs, single hand operation, ADA compliant.
Fully enclosed, water resistant lock, small paper opening, meets HACCP requirements.
Attractive streamlined exterior.
Stylish blue cover and contemporary light grey back housing to match upscale washroom decor.
Fits up to 1000ft (300m) roll, reducing maintenance.
Simple and effective maintenance with easy to remove and replace lid.
Made of tough impact resistant materials for durability.
Vandal proof, break resistant, chemical and most resins conform to the
UL94HB flammability rating.
Pre-measured sheets of 4.5" in length for control in use.
CODE

DESCRIPTION

TECHNICAL SPECIFICATIONS

DTG1AT108000
DISPENSADOR TOALLA AUTO CORTANTE MANOS LIBRES ABS AZUL
Depth 9,08 '' (231 mm.)
Width 11,74 '' (298 mm.)
Height 15,96 '' (405 mm.)
Weight 8,25 lbs. (3,74 kg.)
The dispenser is compatible with the following product ítems:
HBAC0140DPV4
HBAC0140DPB4

ALANI HIGIENE PROFESIONAL S.L.