To learn more about our product line, you can now request a sample online.
OUR EXCLUSIVE PRODUCT LINE
THE CENTRE PULL BLUE SEA DISPENSER ALSO WORKS WITH STANDARD CENTER PULL ROLLS WITH DETACHABLE CORE
Centre Pull BLUE SEA Dispenser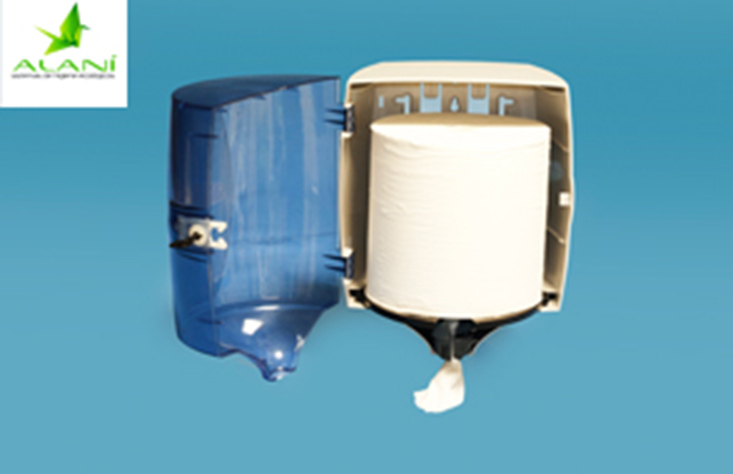 – Unique Adjustable Dispenser: supplies all grades of paper
(from 1 ply, 2 ply, 3 ply, up to AIR LAID). 
- Has 6 adjustment points at the bottom of the dispenser to allow opening and closing of the nozzle as preferred by the user. Offering from one sheet at a time to several meters. 
  – Can only be set with the security key. 
- Maximum consumption control and better service. 
- More Hygienic: NO TOUCH dispensing. No levers, buttons or cranks.
Compact design. Fully enclosed – paper stays clean and dry.
Easy loading with unique side hinged lid.
Transparent cover shows roll status at a glance.
Made of tough impact resistant materials.
Vandal-proof, break resistant, chemical and most resins conform to the UL94HB flammability rating.
Saves money and Controls Consumption: One sheet at a time.
CODE

DESCRIPTION

TECHNICAL SPECIFICATIONS

DMG1CP109000
Centre Pull BLUE SEA Dispenser DD ABS
Depth 9,43 '' (239 mm.)
Width 9,60 '' (244 mm.)
Height 13,30 '' (338 mm.)
Weight 3 lbs. (1,36 kg.)
The dispenser is compatible with the following product ítems:
HBCP0150DLV7
HBCP0150DLB7
HBCP0300SLV7
HBCP0300SLB7

ALANI HIGIENE PROFESIONAL S.L.