To learn more about our product line, you can now request a sample online.
OUR EXCLUSIVE PRODUCT LINE
CORELESS CENTRE PULL SYSTEM: IT REDUCES WASTE, TRANSPORT COSTS, ADMINISTRATION AND LABOUR
Mini Centre Pull BLUE SEA Dispenser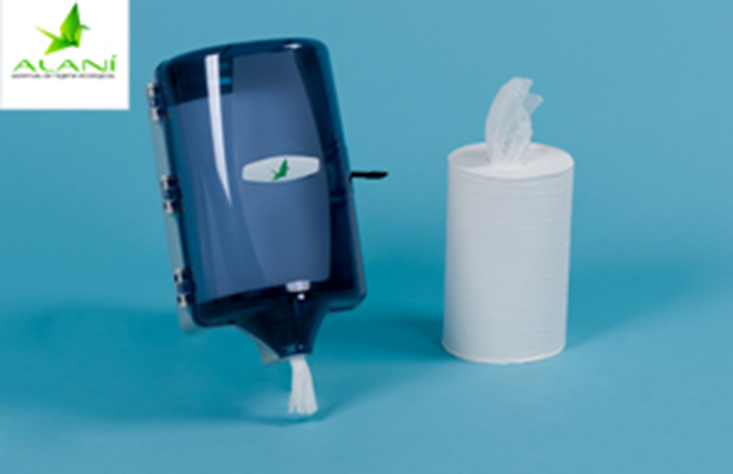 – Unique Adjustable Dispenser: supplies all grades of paper (from 1 ply, 2 ply, 3 ply, up to AIR LAID). 
- Has 6 adjustment points at the bottom of the dispenser to allow opening and closing of the nozzle as preferred by the user. Offering from one sheet at a time to several meters. 
  – Can only be set with the security key. 
- Maximum consumption control and better service. 
- More Hygienic: NO TOUCH dispensing. No levers, buttons or cranks.
Compact design. Fully enclosed – paper stays clean and dry.
Easy loading with unique side hinged lid.
Transparent cover shows roll status at a glance.
Made of tough impact resistant materials.
Vandal-proof, break resistant, chemical and most resins conform to the UL94HB flammability rating.
Saves money and Controls Consumption: One sheet at a time.
CODE

DESCRIPTION

TECHNICAL SPECIFICATIONS

DMG1CP106000
Dispenser Mini Mecha BLUE SEA DD ABS
Depth 6,95 '' (176 mm.)
Width 7,40 '' (188 mm.)
Height 12,39 '' (315 mm.)
Weight 2,4 lbs. (1,08 kg.)
The dispenser is compatible with the following product ítems:
HBCP0120SLVC
HBCP0120SLBC
HBCP0065DLVC
HBCP0065DLBC

ALANI HIGIENE PROFESIONAL S.L.