To learn more about our product line, you can now request a sample online.
OUR EXCLUSIVE
PRODUCT LINE
FOAM SOAP DISPENSER BLUE SEA
Foam Soap Dispenser BLUE SEA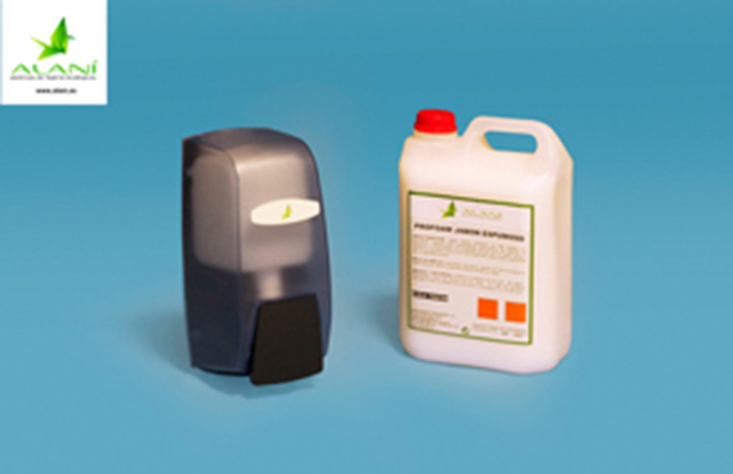 This innovative soap dispenser has been specially designed to reduce
consumption considerably in public facilities. 
A standard 10ml dispenser dispenses a keystroke, giving a
total service of 1,000 doses per liter of soap. 
However, our dispenser offers a consumption control system 
which is the result obtained by combining a dosing control dispenser
with high quality soap and efficiency. 
With this combination we can dispense per one liter of hand soap: 
2500 doses of 4ml each 
without losing quality disinfection and cleaning. 
The dispensers are specially designed for the away from home section. 
For this reason they are anti-vandalic, they have a top surface
protected against cigarette burns, soap container reserves,
 key security and availability viewer.
Dispenser Benefits:
• Resistant modular dispenser.
• Made in ABS Material.
• Anti drip valve.
• Metering lever.
• Security key.
• Quick and easy fill system and installation.
• Holds up to 1000ml of Liquid Soap and dispenses it in 2500 doses.
• Savings of 150% in comparison to the Standard soap Dispensers in the Market.
CODE

DESCRIPTION

TECHNICAL SPECIFICATIONS

DJDDSD110100
Foam Soap Dispenser BLUE SEA
Dimensions
Depth 4.66″ (118mm)
Width 5.19″ (132mm)
Height 10.70″ (272mm)

ALANI HIGIENE PROFESIONAL S.L.