To learn more about our product line, you can now request a sample online.
OUR EXCLUSIVE
PRODUCT LINE
SOAP DISPENSER ANTIBACTERIAL
Soap Dispenser Antibacterial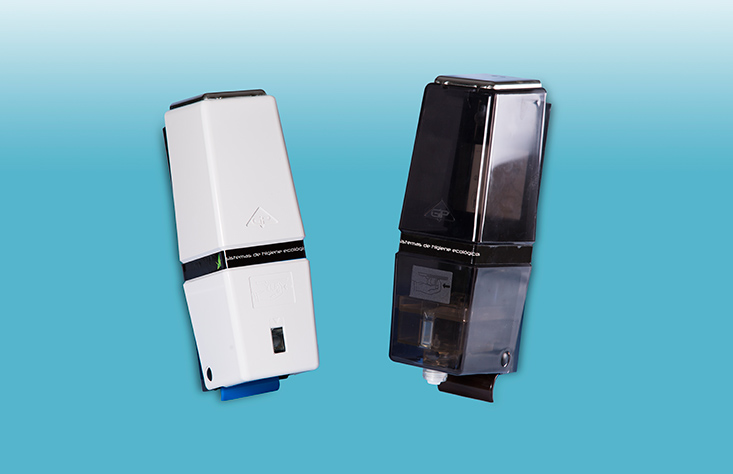 This soap dispenser has been designed to reduce considerably
the consumption of soap in public facilities. 
This consumption control is the result obtained by combining a dosing control dispenser with high quality soap and efficiency. 
With this combination we can dispense per one liter of hand soap: 
between 1000 and 4000 doses as needed without losing quality disinfection and cleaning. 
The dispensers are specially designed for the away from home section. 
For this reason they are anti-vandalic, they have a top surface
protected against cigarette burns, soap container reserves,
key security and availability viewer.
The soap comes in two different formulas, the Antibacterial and Perfumed Floral. 
Thanks to its packing in disposable bottle it prevents cross contamination as it is not possible to refill or manipulate it.
Benefits of the Dispenser:
– ABS Material.
– Anti drip valve.
– Dosing lever.
– Key anti vandalism.
– Regulation of dosage: between 1000 and 4000 applications.
– Storage tank (spare time autonomy) soap.
– Same security key as our dispenser for Matic toilet paper.
– System widely used in public institutions with high acceptance.
– Soap bottles for single use prevents cross-contamination since you cannot refill or manipulate them.
CODE

DESCRIPTION

TECHNICAL SPECIFICATIONS

DJBCORL1000
Soap Dispenser Antibacterial
Pack 1 liter.
Depth 265″, Width 80″, Height 115″.

ALANI HIGIENE PROFESIONAL S.L.